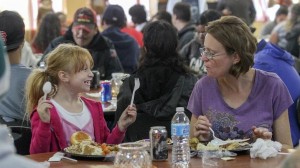 The local Bakersfield charity 'Love for Thanksgiving', just helped over 64,000 families in the greater Bakersfield area. This past week's feeding event is by far the largest ever in Kern County, and possibly even America. This year is the 7th annual feeding event hosted by Love for Thanksgiving.
"Bakersfield is one of the most giving communities I've ever seen. I don't know of anywhere in the country where these many people come together to serve almost 100,000 people," commented Kelly Peterson, one of over 4,000 volunteers.
The group, along with many local churches, used the Costco parking lot on Rosedale Highway to prepare the food and distribute the meals throughout the county.
The lot looked like a busy shopping day at Costco, but it was instead filled with busy volunteers.
The event started in 2007, with a faith based men's group who wanted to help others during Thanksgiving. During the first event, they fed dozens of people with peanut butter and jelly sandwiches. The event has grown every year since then, uniting with dozens of other organizations and thousands of local residents who both donated and volunteered.
[facebook][tweet][digg][stumble][Google]
Comments
comments