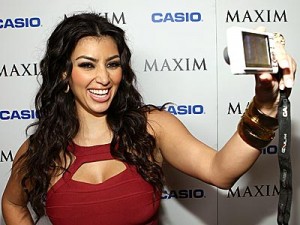 She's the woman who makes Paris Hilton seem shy, retiring and misunderstood.
The proud owner of a bottom so generous and rounded that it makes J-Lo's look like a sad, deflated balloon.
A member of a family so unhinged and dysfunctional that, in comparison, the Osbournes seem well-adjusted, everyday folk. And a bride whose marriage was so short-lived that wedding guests were still digesting the cake when the divorce papers were filed.
I am, of course, talking about Kim Kardashian, an American reality TV star who has found fame and made a considerable fortune despite having no discernable talent to speak of.


She is the main star of Keeping up With The Kardashians, a fly-on-the-wall series about the exploits of her extended family, which has become a huge hit on both sides of the Atlantic.
But now Kim has been singled out by a British headmistress as a splendid example of all that is wrong with Western society.
Dr Helen Wright, the head of St Mary's School, an exclusive girls' boarding school in Wiltshire, made her claim after one men's magazine branded Miss Kardashian 'the hottest woman in the world'.
A fuming Dr Wright said: 'The hottest woman in the world? Really? Is this what we want our young people to aim for? Is this what success should mean to them?'
She also accused Kim of making her fortune from 'meanness, scandal and boundary-less living'.


Harsh words indeed, but for those Britons who have never succumbed to the guilty TV pleasure that is Keeping Up With The Kardashians, Kim remains something of a mystery.

So having no real talents, abilities, or other reasons for having people look up to her, it seems fairly clear that Kim Kardashian should not be famous.
Please share this post if you think the world should boycott Kim Kardashian
[one_third] [/one_third] [one_third] [/one_third] [one_third_last] [/one_third_last]
Comments
comments