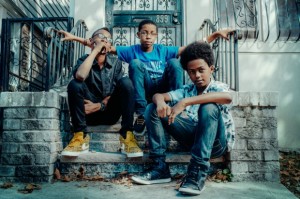 A crazy young group out of Brooklyn, N.Y., has just signed $1.7 million deal with with Sony records, and they aren't even out of middle school yet. Malcolm Brickhouse, 13, Alec Atkins, 13, and Jarad Dawkins, 12, are the three members of the heavy metal band "Unlocking the Truth" and they are starting to appear everywhere.
Unlocking the Truth was founded in 2007 by lifelong friends Malcolm (guitar) and Jarad (drums), they began to become serious about music in 2012, and recruited Alec to learn how to play bass, and  join the trio.
With the combination of several viral videos and playing every day on the streets of NYC (and making up to $1,600 per day), they were quickly discovered and brought on the Vans Warped Tour, then as an opening act for Guns N' Roses in Las Vegas. They were featured in a Cole Haan Christmas ad and an ad for Beats by Dre, here is the video released last year for the Cole Haan commercial;
The band continues to increase the size of its venues, including South by Southwest, and this year the trio made history as the youngest band ever to perform at the indie-music festival Coachella in California.
Sony has committed to producing at least two albums with the band, with an option to produce four more. If Sony produces all six albums, the boys could net as much as $1.7 million, as well as incredible amounts more from sponsorship deals and promotions.
Comments
comments