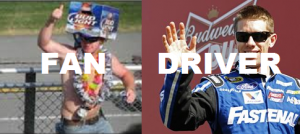 Carl Edwards did not get a DUI and Carl Edwards was absolutely not racing drunk…
Carl Edwards, a Sprint Cup Series NASCAR driver, currently drives the No. 99 Ford Fusion for Roush Fenway Racing. He won the 2007 NASCAR Busch Series championship and nearly won the 2011 NASCAR Sprint Cup Series title, but lost by a tiebreaker to Tony Stewart. Edwards is known for stopping his car at the finish line and doing a back flip off of it after winning a race.
Empire sports recently claimed that;
Reports of Carl Edwards a professional Nascar driver, being charged with a DUI is hitting all the local news.

The event happened this past Tuesday at a small Nascar event being held in Daytona, FL. Suspicions began to blossom that Edwards was intoxicated after doing celebratory donuts, before the race even began. Although, even with the suspicion Edwards was still able to enter the race, and it made it clear that he would be the victor of the race. In only his under wear he climbed to the top of his car and began to moon, and flip of his competitors.
Comments
comments