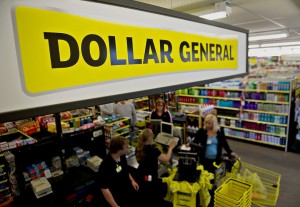 Family Dollar just announced that it will cut jobs and shut down approximately 370 under-performing stores (out of 8,100 total stores nationally) as it attempts to battle sagging sales and lower than expected earnings. The discount store operator will also permanently lower prices on about 1,000 basic items.
The budget retail empire is following similar actions by their competitors. Dollar General, the nation's largest dollar-store chain with 11,000+ locations, recently reported very weak fourth-quarter sales. And Dollar Tree, operating nearly 5,000 locations, missed profit expectations for the holiday quarter in February.
It seems that this trend is industry-wide and is coming largely from an overall improvement in the economy. Several years years ago, Family Dollar and other chains packed in customers and expanded rapidly by catering to cash-strapped people during the Great Recession, but now that the recession is ending, people are beginning to open their wallets back up shifting their spending habits.



Retailing giant Wal-Mart is taking advantage of these new customers by accelerating its growth in small stores and pushing its low prices. It's also increasing its offerings of small packages that are easy on budget-customers.
Consumer spending across the board appears to be picking up, according to the latest reports published from Redbook and the International Council of Shopping Centers. The upbeat news suggests that the next monthly report on retail sales for April will look encouraging as well.
Where do you think the economy is headed in the next few months? 
Comments
comments