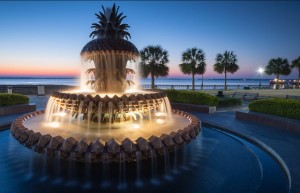 Charleston was just named the best city in America by one of the top travel magazines in the world.
Condé Nast Traveler readers named the Holy City as the top small city in the US for the second year in a row, beating out Santa Fe, Alexandria, and Savannah.
The travel magazine described the winning city as follows:
"Charleston may be a small town, but this city punches well above its weight. When you consider everything it has to offer—history, culture, food, charm—it's no wonder the so-called Holy City has repeatedly topped our list of the best small cities in the US. While its robust F&B scene, which includes a steady annual circuit of nationally recognized food and culture festivals, continues to be a draw, visitors are rarely prepared for the city's good looks. Stately homes, cobblestone streets, waterfront views, and an abundance of flowering window boxes only add to its welcoming vibe. Find a seat among its many outdoor terraces for a drink and some fresh oysters (we recommend hitting the Ordinary), and try to resist the urge to up and move here."
Last year, Charleston's tourism generated $12.8 billion.
Founded in 1670, Charleston moved to its present site in 1680.
Comments
comments