After incredible Panthers, Bobcats, and Checkers seasons, then opening an epic new Uptown baseball stadium for the Knights, it seemed as if we had reached the pinnacle of sports in Charlotte. That pinnacle has just been overshadowed…
This coming week, the eyes of the world will once again be on Charlotte…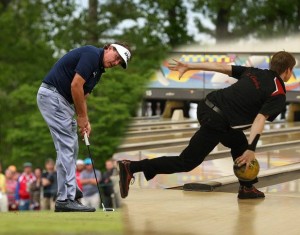 For the first time in our city, and perhaps in the history of the world, the highest levels of both professional bowling and professional golf will collide on one city, in one earth shaking week.
The 2014 Wells Fargo PGA Tour Golf Championship will descend on the Queen City beginning Thursday, May 1st, and concluding on Sunday, May 4th. The championship boasts an impressive $6,900,000 purse, and 500 total FedExCup Points. The championship is expecting as many as 3,000 clients to come to the Quail Hollow Club next week to witness the spectacle.
Making next week truly legendary is the addition of a second, equally impressive tournament, a tournament of bowling.
Starting next Sunday, May 5th, Cinco De Mayo, George Pappas Victory Lanes will host 160 of the world's top professional bowlers for the PBA50 Miller High Life Classic.
The star-studded field will include 16 members of the Professional Bowlers Association Hall of Fame, including Charlotte native Pappas, who now lives in Mooresville, and two-time defending PBA50 Player of the Year Walter Ray Williams Jr.
This epic tournament will also feature Joe Scarborough of Charlotte, who made bowling history last year by rolling the first and only 900 series in PBA history at the PBA50 Sun Bowl in Florida.
Browse available tickets to either of these events by Clicking Here (TicketNetwork.com)
Comments
comments