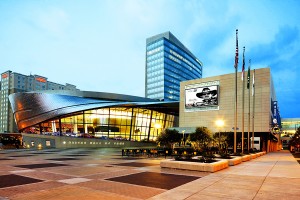 The City of Charlotte currently owes Bank of America and Wells Fargo $23.6 million for the NASCAR Hall of Fame building. The city now wants to give them $5 million and call it even.
When it was built, the city also took out two loans from Bank of America and the former Wachovia that were about $20 million each.
• One of those $20 million loans is backed by the sale of public land that surrounds the hall, near Interstate 277. The city has sold one piece of the land and has a contract worth roughly $10 million to sell another section of land on Stonewall Street. The city is confident that property will eventually sell and the full loan will be repaid.
• The other loan – worth $19.1 million – was backed by the sale of commemorative bricks and corporate sponsorships for the hall.
The city hasn't yet paid any money toward that $19.1 million loan, and $3.5 million in interest has accumulated.
The two loans were "no-recourse loans," meaning the banks couldn't seize assets if the loans weren't paid.
In addition to wanting the banks to waive $17.6 million in principle and interest, they also want NASCAR to waive $3.2 million in past royalties it was supposed to receive from the racing museum. To date, The Charlotte Regional Visitors Authority (operators of the museum) haven't paid any royalties to NASCAR, since they've been losing more than $1 million a year since it opened in 2010.
"The whole goal is to bring the hall into a break-even position," said Deputy City Manager Ron Kimble.
The city's proposal comes as Charlotte is considering another private-partnership project to increase tourism – a possible $37 million investment in an amateur sports complex near Bojangles' Coliseum. Kimble, who is also working on that project, said he's still confident in that and other projects despite the hall's poor financial performance.
Do you think the banks should take the deal?
[facebook][tweet][digg][stumble][Google]
Comments
comments