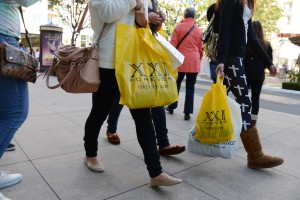 After an explosion of growth in the 90s and early 2000s, retail development in Charlotte was almost non-existent for about 10 years. It looks like that pause is finally over. Charlotte's first mall to be built in over 10 years had it's grand opening today – thousands of shoppers showed up to celebrate and shop.
Charlotte Premium Outlets is a 400,000-square-foot mall in the Steele Creek area of southwest Charlotte, located at 5404 New Fashion Way. The mall was designed and built through a partnership between Tanger Factory Outlets and Simon Property Group (builders of the SouthPark Mall and Concord Mills).
North Carolina Governor Pat McCrory even showed up to celebrate the new jobs that were created and boost to the economy that the new mall will bring. The new Steele Creek mall currently employs over 900 workers.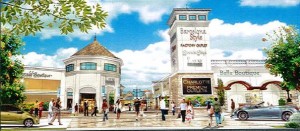 Many Charlotte residents are excited to frequent the malls new anchor tenant, Saks 5th Avenue Off Fifth, as well as many new arrivals to the Charlotte region, including; Le Creuset, Kate Spade New York, and Crocs.
In anticipation of the new influx of traffic from around the Carolinas, mall officials have widened Dixie River Road by two lanes and have added a traffic light near Dixie River and Shopton roads. They also added a second traffic light at Shopton Road and New Fashion Way.
For the mall's grand opening weekend (August 1st-3rd), parking will be available at Berewick Elementary School, Radiant Church and Shopton Square Shopping Center, with shuttles operating from 6 a.m. to 11 p.m.
Charlotte Premium Outlets is the first new mall to be built in Charlotte since Northlake Mall opened in 2005. Mall officials are projecting that it will generate average annual sales of around $140 million and $10 million in annual sales tax. They have also built into the plans room for expansion. The current zoning allows for up to 125,000 more square feet for growth at the mall and a future 120-room hotel on the Charlotte Premium Outlets site.
Comments
comments