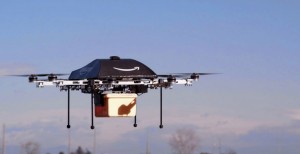 The largest retailer in the world, Amazon is now looking for drone pilots and engineers to fly and build their new fleet of unmanned aircraft. They're even willing to pay top dollar for them.
The FAA still has an official ban on the use of drones for commercial purposes, but it's looking like that will soon change, with a rule softening now expected sometime next year that will hopefully allow certain small drones to make commercial flights up to 400 feet.
It is now estimated that over 100,000 new jobs will be created in the first 10 years after commercial drone use is fully legalized in U.S. airspace, according to a 2013 report from the Association for Unmanned Vehicle Systems International.
The University of North Dakota, now has one of the most advanced drone programs of any US college. The program started in 2008, and since then, most of the first drone pilots have gone to work at major drone manufactures, such as Northrup Grumman (NOC), Lockheed Martin (LMT), General Atomics and Boeing (BA), with average salaries well into the 6 figures.
[facebook][tweet][digg][stumble][Google]
Comments
comments