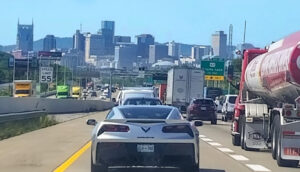 Forbes just released their latest 2023 commuting report and Nashville was ranked has having the #1 worst commute in America.
An estimated 74% of Americans commute to work in 2023 with an average one way commute of 27.6 minutes. As many Americans are being urged back into the workplace, Forbes ranked the top 25 largest cities based on their average time spent commuting, access to public transit, walkability, bikeability and the percentage of workers in each household without a car.
Top highlights include:
Nashville, the city that ranked as the hardest commute on their list, experiences heavy traffic due to massive growth in recent years and residents report spending over 40 hours in traffic a year on top of their daily commutes.

American workers spend an average of 55.2 minutes commuting to and from work each day

D.C. takes fifth place and is well-known for its heavy traffic largely due to many workers commuting in and out of the city from suburbs in Maryland and Virginia. The area has the longest commute time of the top five at 37.2 minutes.

About 55% of the workforce in America prefer to work from home or have some flexibility to work at home part of the time while only 30.7% feel they cannot do their job from home.
Comments
comments