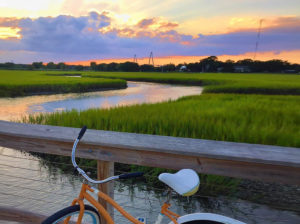 Mount Pleasant just opened their new $1.5 million phase of the $1.5 million Shem Creek boardwalk. The new 1,100 foot section now connects the 5 year old 2,100 foot section along the northwest side of the creek — near where the creek meets Charleston Harbor.
Before completion, the town of Mt. Pleasant had to receive the approval from the state Office of Ocean and Coastal Resource Management, the Army Corps of Engineers and the state Department of Transportation, and several other local and federal agencies.
Now that it's open, it offers some of the most incredible views of Charleston-area wetlands, as well as the harbor sail and fishing boats.
The city of Mount Pleasant is still planning on adding an additional Phase three of the project, which will include building a pedestrian crossing of Shem Creek at the Coleman Boulevard bridge.
Please share;
Comments
comments