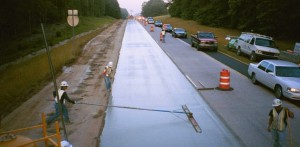 The state of Georgia is shelling out $8.9 million to re-pave a 42-mile stretch of Interstate 20 in an $8.9 million contract with the Georgia Department of Transportation.
The section will be through most of Augusta going south down I-20 between Ga. 44 in Greene County and the Thomson Bypass in McDuffie. All of the sections of concrete will be either repaired or replaced.
The department gave the job to the absolute lowest bidder, Interstate Improvement Inc., out of Fairbault, Minn., with a scheduled completion date of April 30, 2016. One of the subcontractor is participating only on the basis of being an "disadvantaged business enterprise", the female owned Roadscape North Florida Inc. of Jacksonville – which will install the plastic lane marking.
The Georgia DOT has already awarded 123 major construction contracts valued at a total of $673 million this year.
[facebook][tweet][digg][stumble][Google]
[one_third] [/one_third] [one_third] [/one_third] [one_third_last] [/one_third_last]
Comments
comments