Yesterday afternoon, during a special session of the North Augusta city council, gave final approval to the infrastructure contract on the new $219 million Project Jackson development. Work is now scheduled to next month.
The total $219 million price tag will include $64.5 from the public coffers and the rest will come through private funding.
The central feature of the development will be the Augusta GreenJacket's new baseball field, with hundreds of thousands of square feet of residential, retail, and office space surrounding it:
The 4,500-seat stadium will be modeled after the San Francisco Giants stadium with a significant life-work-play design.
The project calls for a significant amount of retail and residential to be built around the new baseball field, including a 32-unit apartment building with fitness center on the left field wall.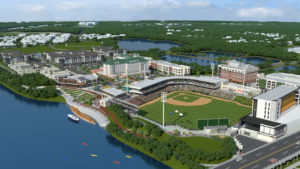 Plans also include a new hotel, a 72,000-square-foot office building and several new restaurant and retail spaces throughout the project.
The first part of Project Jackson to get underway will be the 270-unit apartment complex and 125-unit senior living building. The start date is scheduled for Jan. 16, 2017, with a completion date of Dec. 31, 2018.
Project Jackson will also include 24-unit residential flats in the "downtown" area of the project, where there will also be 55,600 square feet of new retail space. About half the retail space is now slated to be open by the opening of the stadium. The apartments and the rest of the retail is projected to be completed by Dec. 31, 2018.
12 new luxury single family homes along the river will also be part of the Project Jackson development to be finished by Dec. 31, 2018.
What do you think of Project Jackson?
Comments
comments