A mysterious giant hole has just appeared on the Siberian Peninsula called Yamal (which, literally translated, means 'the end of the world'). The following video captured from a helicopter shows a weird configuration with debris and signs of combustion around it;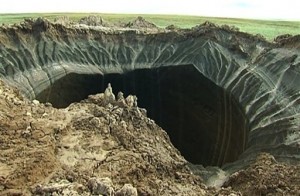 Scientists have now completed an initial survey of the giant hole in northern Yamal — Siberia. Unfortunately for hopefully conspiracy theorists, "There is nothing mysterious here, it is simply Mother Nature's law with its internal pressure and changes in temperatures." said Andrey Plekhanov, one of the researchers, speaking with the Siberian Times.
Researchers are now theorizing that the formation might be part of the natural processes that created the many lakes in the Yamal area. The actual process of formation is still a mystery, but research and exploration is still ongoing, so more complete reports should be available soon.
Comments
comments