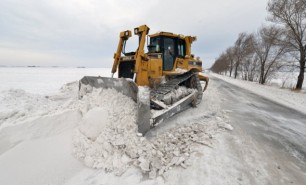 Posted on February 5, 2014 at 10:23 am
by Rick Karlin, Capitol bureau – full story here
Predictions of a foot or more of snow, highway closures, road salt shortages downstate and power outages, not to mention talk of "thundersnow" has prompted Gov. Andrew Cuomo to declare a state of emergency in New York State.
"This will be manageable," Cuomo said earlier Wednesday morning during a phone briefing. But he added there are challenges in keeping the state's byways open.
The emergency declaration gives state officials more flexibility with regulations when it comes to dealing with the storm. One priority has been to ship road salt downstate to Long Island and New York City where the snowy winter so far has depleted supplies.
The governor noted that there are sporadic power outages downstate where icing is bringing down trees and power lines — folks there are apparently withstanding a combination of sleet and heavy wet snow unlike the colder precipitation farther norther.
Comments
comments