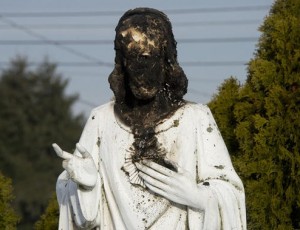 Dan Sheehan In The Burbs
9:07 p.m. EST, February 4, 2014
I had to work on Sunday and was having a jolly time making fun of Punxsutawney Phil and suchlike marmots of doom when my wife informed me that someone had set fire to a statue of Jesus outside our church, St. Ann in Emmaus.
My in-laws had seen the immediate aftermath of this, arriving for the early Mass to find firefighters gathered around the statue. The fire was already out, because some parishioners had thrown water on it, but the damage was done. The head was charred black, and there was no hope of restoration. Our pastor, Monsignor John Mraz, said it would cost about $2,000 to replace, though happily it was insured.
So there you have it. Someone — still unknown as of Tuesday, police said — had doused the head of Jesus with lighter fluid, set a flame to it and run off.
I say doused the head of Jesus and not the head of a statue because I'm fairly certain that whoever did it was making a statement against faith, not statuary, though I suppose there is a chance it was just a cruel-hearted prank with no deeper meaning.
Read more: http://www.mcall.com/news/local/mc-jesus-statue-burbs-20140204,0,5080865.column#ixzz2sShVm37h
Follow us: @mcall on Twitter | mcall.lv on Facebook
Comments
comments