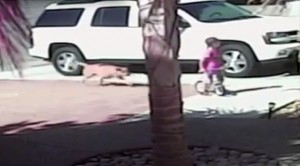 An incredibly heroic cat came to the rescue of a young boy who was attacked by a much bigger dog in his driveway in Southwest Bakersfield, and it was all caught on multiple videos.
There were several surveillance cameras recording all of the action – 4-year-old Jeremy, has mild autism, was playing on his bicycle after coming home from school when the neighbor's dog sneaks up behind him and bites his leg.
The heroic family cat, named Tara, sprints onto the scene and leaps onto the attacking dog and chases it away.
Erika Triantafilo, Jeremy's mother, was nearby watering a tree when she heard his screams.
Tara the heroic cat became a part of the Triantafilo family in 2008 and has been impressing people ever since. (Erika must have read "Secrets of a Master Cat Trainer")
The neighbor was pulling their vehicle out of their gated driveway when the dog escaped.
The neighbor called 911 on behalf of the boy and his mother.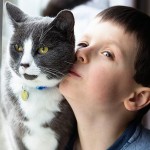 The young boy did require ten stitches after the incident but is reportedly doing well, thanks to his heroic cat Tara.
The entire family is thankful and Tara will most certainly be receiving as many treats as she wants for the rest of her life.
TMZ reported earlier that We're told the dog was picked up by animal control in an extremely aggressive state and the decision was made to euthanize the animal.
Comments
comments