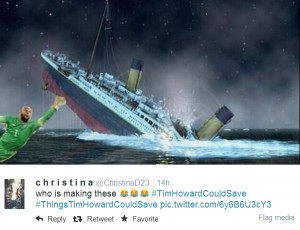 The United States went into overtime in their last game in the 2014 World Cup thanks largely to our show-stopping goalie Tim Howard. He finished Tuesday's game against Belgium with 16 saves, the most in a World Cup game since FIFA started keeping track in 2002. It was by far his finest performance in 13 years with the national team.
In just a matter of a couple days, Tim has now become a national icon and viral internet sensation. There are now millions of tweets, Facebook posts, and Instagram pictures using a variety of hashtags such as #ThingsTimHowardCouldSave, #TimHowardSaves, #TimHowardCouldSave, etc. A Wikipedia page has even temporarily been changed to show Howard as U.S. Secretary of Defense instead of Chuck Hagel.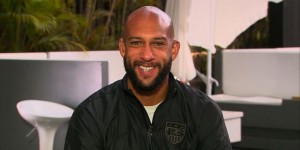 Yet in the midst of this sudden rise to fame, Tim has been consistent in redirecting all the credit back God. Howard has been described as being "grounded by a strong Christian faith," by NBC, and in a recent interview, Howard stated, "We all need God in certain ways, you know. And I certainly fall short in a lot of categories. And it's at those times that I need much more help than most."
In an article for Worldwide Challenge magazine, Howard credited his grandmother and his Tourette's syndrome, a neurological disorder, with drawing him closer to God. Combatting Tourette's, Howard discovered, "Nana's sense of peace was so powerful because it came from her faith in the Lord."
"Through her, God revealed His love for me as well. It wasn't long before I was following in her footsteps," he explained.
While "living with Tourette's is not easy, God has blessed me with the gift of athleticism as well. God has also has shown me ways to use my position as a professional athlete to encourage others with Tourette's syndrome," Howard remarked.
Describing his life as a "dream," he stressed, "if it all went away tomorrow, I know I would still have peace. That probably sounds crazy to most people, but that's the kind of peace Christ gives. It is rooted in His love, and it surpasses all understanding."
Howard has even described Christ as "The most important thing in my life." "He's more important to me than winning or losing or whether I'm playing or not," he continued, "Everything else is just a bonus."
Comments
comments