The new trend for mega-sized container ships is now knocking at Oakland's front door. Our city now has a competitive scramble by the ports for major up-fits, as well as the city of San Fransisco and Oakland working together to re-dredge the bay to accommodate the revolutionary new mega-ships, with the price tag for improvements running into billions of dollars.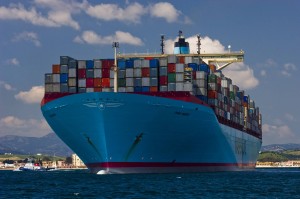 The West Coast ports currently handle over 40% of U.S. containerized imports, and it's now more important than ever that we are ready to handle the new global shipping trends.
In the minds of shipping companies, building bigger ships is a matter of economics: The larger vessels are, the lower the cost of moving a container. The trend began as the industry recovered from the recession, which had hammered revenue and profits. Experts say the message from the shipping lines to the ports is this: Get ready for us or we'll find a port that is.
In response to this new demand, the Port of Oakland have been dredged to a depth of 50 feet. Cranes have been raised by terminal operators to reach over taller, wider loads. Railroads that operate out of the port have increased their capacity to deliver imported products across the U.S. A $1 billion project for new warehouses and a facility to ready imported goods for domestic shipment is planned on port property and the old Oakland Army Base.
What do you think about Oakland spending billions on the port?
[facebook][tweet][digg][stumble][Google]
[one_third] [/one_third] [one_third] [/one_third] [one_third_last] [/one_third_last]
Comments
comments