A smear campaign was just started by the website rightwingwatch.org which labels the Benham Brothers as Christian extremists. The article is very misleading as it blends the current actions of David and Jason Benham, with some of the stories that were written about their father, Flip Benham in the past. As you read the article, it seems that most of accusations were done or said by the Benham Brothers, when in fact, many were alleged on decades ago by their father. The article strays very far from reality to say the least.
So what's wrong with having strong Christian beliefs and standing against the abortion movement in America? What's wrong with believing what the Bible plainly states, and modeling your life and beliefs around that? Apparently today in America, there is a lot wrong with that. HGTV just posted on their main facebook page, "HGTV is currently in process of reviewing all information about the Benhams and we will provide an update as soon as possible."
That post has received over 1,400 comments, most of which are in support of the Benham Brothers. There are some who are making their voice much louder by posting multiple comments, and posting directly to the HGTV page, saying things like "DISGUSTING. Pull the plug on their show now!!", "Boycott HGTV and their anti-equality shows featuring proselytizing brothers.", and "Please do not run Conservative anti-gay programming."
The problem with these comments and the misunderstood people writing them is that the new show by HGTV, called "Flip It Forward", will have nothing to do with homosexuality, or abortion. It will be a show about flipping houses and helping out families in need. It sounds a lot like discrimination. It seems that the opposition to the show is all about discriminating against the Benham Brothers, not because of the content of the show, or what is being done in the show, but rather, because of the Benham Brothers personal beliefs.
What do you think about the Benham Brother's new show?
UPDATE – HGTV STATES THEY WILL NOT MOVE FORWARD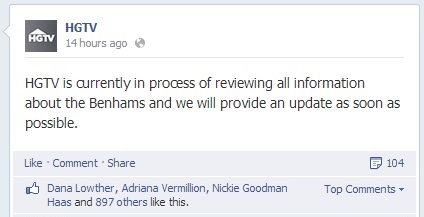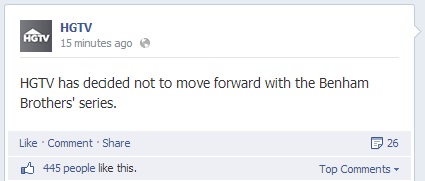 UPDATE – The Benham Brothers Have Just Posted an Official Statement To Their Facebook Page:
"The first and last thought on our minds as we begin and end each day is; have we shined Christ's light today? Our faith is the fundamental calling in our lives, and the centerpiece of who we are. As Christians we are called to love our fellow man. Anyone who suggests that we hate homosexuals or people of other faiths is either misinformed or lying.
Over the last decade, we've sold thousands of homes with the guiding principle of producing value and breathing life into each family that has crossed our path, and we do not, nor will we ever discriminate against people who do not share our views.
We were saddened to hear HGTV's decision. With all of the grotesque things that can be seen and heard on television today you would think there would be room for two twin brothers who are faithful to our families, committed to biblical principles, and dedicated professionals. If our faith costs us a television show then so be it.
David & Jason Benham"
UPDATE – The Benham Brothers Have Decided To Move Forward With Flips w/o HGTV: 
The brothers just posted an article on their site which states;
"…Our coach taught us to always run through first base. So when we heard that our show was being pulled, only 5 weeks into filming, we had a decision to make – "Do we continue to help these six families and finish the job, or do we simply walk away?"
The decision was pretty easy – we're running through first base! With or without the cameras, we are fully committed to helping these six deserving families learn how to flip homes. And you know what….we're super excited to do it!  They came to us to learn how to flip homes. Today we are on set and we are going to coach them all the way through."

UPDATE – The Benhams Brothers Interview on Fox News
Comments
comments