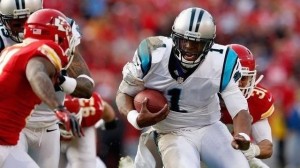 Cam Newton ended last night's incredible game with solid momentum and a couple powerful scoring drives. The Panthers QB and his offense shook off a questionable start to lead Kansas City 14-6 at halftime at the newly renovated Bank of America Stadium. Newton then relaxed on the sideline for the second half to watch Carolina breeze on to a 28-16 win.
Cam commented that the pain from his recent ankle injury hurt a little at times, but overall he was pleased to put "the throttle all the way down" without any setbacks.
He had surgery back in March to tighten the ligaments in his left ankle, so this past weekend's impressive performance is certainly good news for the Panther's upcoming season. Coach Rivera had originally only planned to play Newton for the first quarter, but kept him in when the offensive line continued with strong protection.
Newton played five series, completing four of nine passes for 65 yards. He had no touchdowns or interceptions, although he was nearly picked off by linebacker Derrick Johnson when he telegraphed a slant pass to Jason Avant.
Jonathan Stewart drove home two touchdown runs for 2 and 3 yards, this marks the first time he's scored twice during a regular-season game since the win against the Falcons in 2009.
Stewart ran a total of four times in the first half for just over 26 yards, including a 17-yard gain that gave the Panthers their initial first down on the first play from scrimmage in the second quarter.
Several defensive starters also played extremely well for the Panthers. Cornerbacks Antoine Cason and Melvin White each had six tackles and made a couple of nice open-field stops.
Outside linebacker A.J. Klein, starting in place of an injured Chase Blackburn, intercepted rookie Aaron Murray and returned the pick 29 yards to the Kansas City 8 to set up running back Fozzy Whittaker's 1-yard touchdown run in the third quarter.
It looks like the Panthers might finally have a realistic chance of making it to the playoffs….maybe even the Superbowl?
Comments
comments