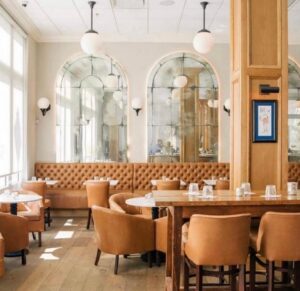 Get ready to raise your glasses in Spring 2024, as the chic Parisian spot Felix Cocktails et Cuisine is set to unveil its latest venture, La Cave. Nestled at 550 King Street Suite 150 in Charleston, right beside its elder sibling Felix, La Cave is transforming a 1,644-square-foot area into a haven for wine and cocktail aficionados. The space, previously home to OddFellows Ice Cream, is being reimagined to feature a cozy 9-seat bar, intimate dining with around 20 seats, and a 16-seat enclave for private gatherings.
La Cave is teasing the taste buds of its future patrons on Instagram, boasting an "exclusive Sipping Lounge & Salon Privé." This new spot aims to elevate the experience with an extensive wine selection, artisanal cocktails, and tantalizing small plates, all while becoming the go-to for bespoke parties and events.
Felix, a culinary gem since 2017, mirrors the French roots of owner and chef Felix Landrum. It's a hotspot for those craving a fusion of Parisian flair and Southern charm, especially among the late-night crowd in Midtown Charleston.
View this post on Instagram
Though whispers of a November opening were in the air, the buzz has now settled on a Spring 2024 debut. And with the buzzworthy Signature Dinner event with chef Lana Lagomarsini already sold out for March 4, it's a hint that La Cave might just swing open its doors in grand style around then.
Comments
comments