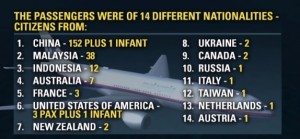 Today at 6:43pm EST a flight heading from Malaysia to Beijing vanished without a trace, it had 227 passengers and crew on board, all of whom are now considered to be 'missing'.
The only "clues" officials have in the search for the missing commercial jetliner are oil slicks in the Gulf of Thailand where all contact was lost with the flight, which was en route from Kuala Lumpur to Beijing.
A Vietnamese search plane, part of a massive, multinational search effort , spotted the oil slicks that stretch between six and nine miles, the Vietnam government's official news agency reported. The traces of oil were found about 90 miles south of Tho Chu Island, the report said, in the same area where the flight disappeared from radar early Saturday morning.
The oil discovery only added to a growing list of questions about the fate of the plane carrying 227 passengers and 12 crew members: Why was no distress signal issued, and who exactly was aboard?
"It has been more than 24 hours since we last heard from MH370. …The search and rescue team is yet to determine the whereabouts of the Boeing 777-200 aircraft," the airline said in a statement posted to its website. At this stage, search and rescue efforts "have failed to find evidence of any wreckage."
In the meantime, the search area in the South China Sea is being expanded and efforts to locate the plane will continue overnight and into early Sunday morning, said Azharuddin Abdul Rahman, director general of civil aviation in Malaysia.
Comments
comments