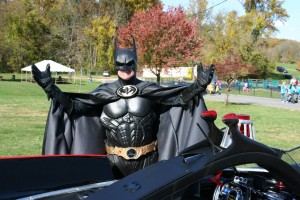 The caped crusader is in town for a meet-and-greet at the Hampton Inn and Suites in Phillips Place, says Jessica Helms, the hotel's director of sales and marketing.
The actor and his car came down to the Queen City from Maryland, where, as his Facebook Page describes him, he is a businessman from Baltimore County who visits sick children in hospitals, handing out Batman paraphernalia to up-and-coming superheros who first need to beat cancer and other wretched diseases.
Batman is also the subject of the documentary "Legends of the Knight," which gets a screening Thursday at EpiCentre Studio Movie Grill.
Writer-director Brett Culp funded the project on the crowdfunding site Kickstarter, once he started telling all the stories of all those who had their lives changed by the Batman character, donations rolled in, including two from the Middle East that made Sultan Saaed Al Darmaki and Sultan Al Saud executive producers.
LEGENDS OF THE KNIGHT weaves together the stirring true stories of individuals who have overcome devastating obstacles, unselfishly given to the community, and embraced their inner superhero because of their love of Batman.

Through the deeply personal tales of Batman fans, writers, and filmmakers, this feature-length documentary explores the power of heroic stories and encourages viewers to find their own path to heroism. Funded by over 1,100 contributors from around the world, LEGENDS OF THE KNIGHT is a return to our childhood dreams of being a hero.
Comments
comments