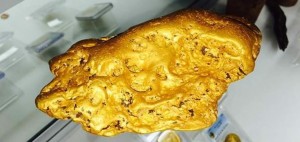 Just when most people though the Californian gold rush was over, one of the largest gold nuggets in modern times was just discovered in Northern California's Gold Country. The solid gold nugget weighed in at 6.07 lbs and just sold over the weekend for about $400,000 (the exact amount and buyers name were kept confidential).
Less then 24 hours after it was unveiled to record crowds in San Francisco, the newly discovered 'Butte Nugget' sold this past Friday to a "prominent Bay Area collector" for somewhere around $400,000 (that was the asking price and the auctioneer noted the final price wasn't far from it).
The nugget had been attracting wide attention from around the country among gold and history enthusiasts, and even some treasure hunters after it's discovery was announced less than a week ago. When it went on display Thursday at the world famous San Francisco Fall Antiques Show, hundreds flooded in to catch a glimpse.
The historic nugget got its name because the gold hunter who found it dug it out of the ground in Butte County. That man also wanted his name and the location of the find to be secret, to avoid scammers, treasure seekers, and potential thieves.
[facebook][tweet][digg][stumble][Google]
[one_third] [/one_third] [one_third] [/one_third] [one_third_last] [/one_third_last]
Comments
comments