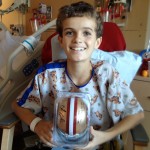 In an incredible story of selfless sacrifice, An ultra-marathon runner named Roy Wiegand has just ran over 80 miles from Anaheim to Santa Clarita to raise money in honor of a 12-year-old boy from Burbank who recently passed away from cancer.
Wiegand's own son was in the same troop as Christopher Wilke, who had a terminal form of bile duct cancer that eventually took his life. The boy's impact on the local community really spoke to him and made him decide to take action.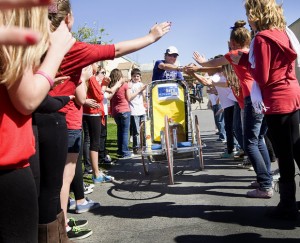 Wiegand decided to create a facebook fundraising event and perform an ultra-long distance 83-mile run to benefit the Michael Hoefflin Foundation for Children's Cancer. Christopher Wilke's baseball number was 48, and Wiegand hoped to raise at least $48,000 in his honor.
Upon reaching Santa Clarita, he presented Wilke's family with a baseball signed the boy's favorite major leaguer – Mike Trout, an LA Angels outfielder.
Wiegand evn pushed a stroller during the run and gave children rides along the way.
He started the run at Angel Stadium in Anaheim and ended just before 8 p.m. at the Michael Hoefflin Foundation's Santa Clarita location.
"I will raise as much as I can, I feel like I am the lucky one. This is an amazing opportunity." Wiegand stated on the Facebook page.
Comments
comments