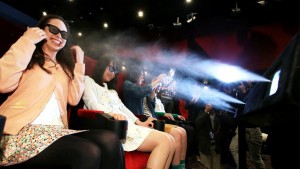 You've probably heard of 3D movies – but the first commercial "4-D" movie theater in California is about to offer a movie going experience like no other.
This pioneering movie theater will be located in Los Angeles and will open with a late-night showing of Transformers: The Age of Extinction.
The "4D" experience includes a 3D movie, combined with features like sensor-equipped motion seats, wind, strobe, fog, rain and scents.
The company behind this incredibly innovative movie-going experience – South Korea's CJ 4DPlex – is betting that 4D will be the next wave in the film industry.
Movies have to be adapted to be played in 4D – recent titles to be given the 4D treatment include Captain America: The Winter Soldier and How to Train Your Dragon 2.
4D systems are currently installed in about 23 countries, including Bulgaria, China, Chile, Japan, the United Arab Emirates and Venezuela.
Comments
comments