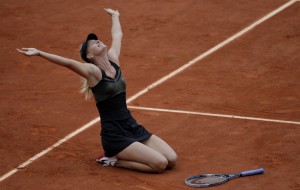 In one of the most intense French Open matches in recent years, Maria Sharapova took champion crown once again.
Winning her second championship title at Roland Garros, Sharapova overcame 12 double-faults Saturday to beat fourth-seeded Simona Halep 6-4, 6-7 (5), 6-4 in the final.
"This is the toughest Grand Slam final I've ever played," Sharapova commented "Really, this tournament means so much to me. It's a tournament, when I was young and growing up, I wanted to win.
"To think that I've won it two times is, I don't know. So emotional right now, I can't even talk."
Sharapova struggled with her serve this week and was broken seven times in the final on Court Philippe Chatrier. But she was able to hold off Halep, and hold her serve in the final game, with steady groundstrokes that kept the Romanian on the run.
After Sharapova's final forehand forced an error from Halep's backhand, the Russian dropped to her knees and buried her face in her hands. She then looked to her team in the stands before shaking hands with Halep at the net.
Sharapova also won the title at Roland Garros in 2012, completing a career Grand Slam. She lost in last year's final to Serena Williams.
Halep, who was ranked only 57th heading into last year's French Open, was playing in her first major final.
Neither Sharapova nor Halep was able to hold serve consistently, with 16 combined breaks of serve in the match.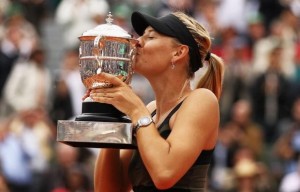 In the 10 games of the final set, there were five breaks. And at one point, the pair went on a run of six straight breaks of serve, starting with the final four games of the second set and ending after the first two of the third.
Sharapova often looked to be in control, even in the tiebreaker. She led 5-3, two points from victory, but then lost the next four points to even the score at one set apiece.
The match lasted 3 hours, 2 minutes, the longest French Open women's final since 1996 when Steffi Graf beat Arantxa Sanchez 10-8 in the third. It was also the first women's final in Paris to go three sets since Jennifer Capriati beat Kim Clijsters 12-10 in the third in 2001.
Sharapova's game on clay has improved immensely over recent seasons and things don't look like they will be slowing down anytime soon.
Comments
comments