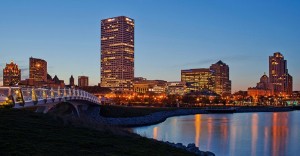 A major wave of hirings are coming to Milwaukee this coming Thursday (10/23). Currently there are 75 employers signed up to fill about 1,000 positions and will be interviewing candidates over the next couple weeks.
The event is being organized and promoted by Milwaukee Area Workforce Investment Board. It will take place from 8 a.m. to 11 a.m. at American Serb Memorial Hall, 5101 W. Oklahoma Ave. in Milwaukee.
Earl Buford, the CEO of Workforce Investment Board didn't want to call the event a job fair, thinking that the term has negative connotations. The event grew out of a desire to help about 600 workers laid off when Cargill Inc. closed its Milwaukee slaughterhouse this past August.
Currently in the four-county Milwaukee metropolitan area there are about 47,000 looking for work but were unemployed, according to the U.S. Bureau of Labor Statistics.
Aurora Health Care is one of the major participants who currently employs over 23,000 people in southeastern Wisconsin. Time Warner Cable and Payne & Dolan Inc. are two of the other major employers that will be represented.
Anyone interested in trying to find a job this week must bring a résumé beforehand to one of seven of the following prescreening sites.
■Milwaukee Area Workforce Investment Board, 2342 N. 27th St.
■The Hire Center, 2338 N. 27th St.
■UMOS, 2701 S. Chase Ave.
■YWCA, 1915 N. King Dr.
■Social Development Commission, 4041 N. Richards St.
■Wisconsin Regional Training Partnership, 3841 W. Wisconsin Ave.
■Center for Self Sufficiency, 4465 N. Oakland Ave., Shorewood.
More info is now available at the Workforce Investment Board, (414) 270-7580
[facebook][tweet][digg][stumble][Google]
[one_third] [/one_third] [one_third] [/one_third] [one_third_last] [/one_third_last]
Comments
comments