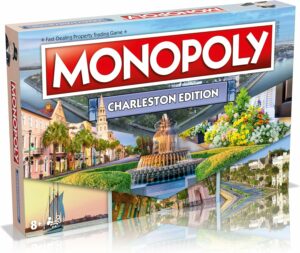 Charleston's beloved landmarks and local favorites have been immortalized in a special edition of the classic board game Monopoly – Charleston Edition.
It was unveiled today at the Hotel Bennett with the help of Charleston officials, business leaders, and even Mr. Monopoly himself.
The event showcased the city-themed version of the game, a result of a collaboration between Top Trumps and Hasbro.
Mr. Monopoly, with his iconic top hat and white mustache, was in attendance alongside Charleston officials and business leaders to unveil the board game's Charleston edition.https://t.co/S16MAuAaEr

— The Post and Courier (@postandcourier) November 15, 2023
This past April, Charleston residents were invited to nominate their favorite city highlights to replace the traditional Monopoly squares like Boardwalk and Park Place. The final game reflects these choices, featuring a mix of cherished local charities such as the Charleston Animal Society, Lowcountry Food Bank, and Lowcountry Orphan Relief. Iconic religious landmarks included are the Circular Congregational Church, Mother Emanuel AME Church, and Kahal Kadosh Beth Elohim.
The game's property squares are a tour through Charleston's most famous sites. Players can 'own' landmarks like the Pineapple Fountain, Angel Oak tree, and Isle of Palms. Historical sites such as The Old Exchange and Provost Dungeon, Patriots Point Naval and Maritime Museum, and Dock Street Theatre are also featured. Cultural and recreational spots like the Charleston Library Society, Charleston Museum, Joseph P. Riley Jr. Park, the Schooner Pride, South Carolina Aquarium, and Spoleto Festival USA add to the game's local flavor.
Retail and dining experiences are not left out, with Wonder Works Toys, Joint Venture Estate Jewelers, Magnolias, Holy City Brewing, Slightly North of Broad, and Charleston City Market included. Iconic locations such as The Battery, Rainbow Row, Marion Square, and Hotel Bennett also make an appearance, making this Monopoly edition a true celebration of Charleston's rich heritage and vibrant community.
For a limited time, Charleston residents have exclusive access to the game here.
Comments
comments