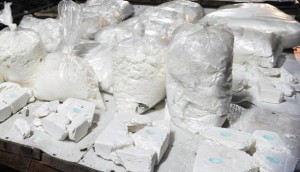 DEA agents and local police agencies around the greater Nashville region just carried out one of the largest drug busts in the city's history. During the one-day sting operation, authorities seized over 100 pounds of pure cocaine (valued at around $2 million), hundreds of thousands in cash, 20 vehicles, two motorcycles, and 13 guns.
So far nine people in the Nashville area have been arrested on charges of engaging in a cocaine conspiracy. They are being held in lieu of $500,000 bond each, police said.
The sting was focused on Nashville drug kingpin Lasean Jamaine Campbell, who's now accused of being a multi-kilo distributor of cocaine to midlevel dealers. Nunez is believed by police to have supplied two other large-scale cocaine customers in addition to Campbell. They identified Ivan D. Nunez as his supplier.
This operation was Nashville's largest cocaine seizure since 2008, when 70 kilograms of cocaine were seized from a private airplane at Nashville International Airport.
Please share;
[facebook][tweet][digg][stumble][Google]
[one_third] [/one_third] [one_third] [/one_third] [one_third_last] [/one_third_last]
Comments
comments