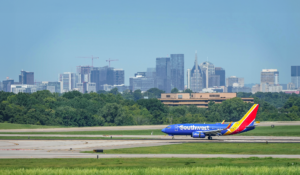 Nashville International Airport (BNA) has just announced that it will soon be the newest Crew Base for Southwest Airlines, marking BNA as the 12th Crew Base for the growing international airline.
Starting in early 2024, the new Crew Base will accommodate approximately 500-700 Flight Attendants and 150-200 Pilots, with plans for continued expansion. BNA is actively collaborating with Southwest Airlines to add four additional gates by the fourth quarter of 2023, with the aim of achieving a total of 20 gates by the end of this year.
 "This is an outstanding and momentous announcement that truly reflects our valuable partnership with Southwest Airlines and signifies our shared vision of elevating travel to new heights," said BNA president Doug Kreulen in a press release. "Southwest Airlines' dedication to safety, service, and innovation perfectly aligns with our commitment to providing our customers with an unparalleled experience, and we're thrilled for this expansion."
Southwest Airlines' continued investment in BNA underscores the airport's pivotal role in Middle Tennessee's growth and prosperity. BNA recently celebrated a record-breaking year, serving 21.9 million passengers by the end of the fiscal year, a remarkable 18.7% increase from the previous record set in 2022.
Comments
comments