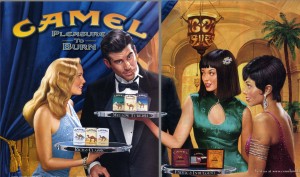 Cynthia Robinson has just been awarded $23.6 billion by a Florida Jury for damages in her lawsuit against the tobacco company R.J. Reynolds Tobacco Company.
Her argument in the case was that smoking killed her husband, Michael Johnson, in 1996. R.J. Reynolds Company was found to be negligent in not informing him that nicotine is addictive and smoking causes lung cancer. Johnson started smoking at the age of 13 and died at 36.
The trial took four weeks in Escambia County and the jury deliberated for 15 hours. The verdict included more than $16 million in compensatory damages.
The majority of jurors were under the age of 45, so the attorney had to show them how the tobacco industry presented its product before the public awareness campaigns on tobacco risks and dangers in the 1990s.
The attorney's for R. J. Reynolds, stated that, "The damages awarded in this case are grossly excessive and impermissible under state and constitutional law.This verdict goes far beyond the realm of reasonableness and fairness and is completely inconsistent with the evidence presented. We plan to file post-trial motions with the trial court promptly and are confident that the court will follow the law and not allow this runaway verdict to stand."
Robinson's case was once part of a class-action lawsuit in which a jury had awarded $145 billion in damages, but in 2006 the Florida Supreme Court overturned that verdict. In its ruling, however, the state's high court opened the door for individual lawsuits against tobacco companies.
Do you think this was a fair judgement? 
Comments
comments