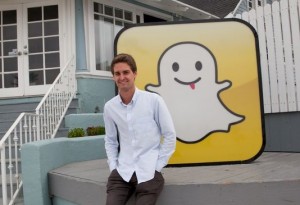 When Snapchat turned down Facebook's $3-billion buyout, most people thought they were crazy. Many even thought a start-up phone app with no revenue couldn't even last more than a couple years. They were all wrong.
Snapchat launched in 2011 as a smartphone app that let users send photos and videos that would only last a few seconds. It is now estimated that users are sending approximately 700 million photos and videos every day.
The L.A. start-up that no one thought would last for more than a couple years is now in talks with China's Alibaba Group to secure some new financing that would value the company at $10 billion.
Although it might seem crazy, a $10-billion valuation for a social media company the size of Snapchat, with virtually no revenue, "is consistent with where the market is today…you'd get a lot of reach having Alibaba as a strategic investor and I think the reach that they have — that's where the monetization value is." said TX Zhuo, managing partner at Karlin Ventures in Los Angeles.
The only other venture capital backed start-up companies to ever reach a $10 billion valuation are Airbnb, Dropbox, Uber and the Chinese smartphone and apps maker Xiaomi.
Today's tech start-up market has certainly reached an unprecedented level. It seems that investors would now rather see businesses aggressively amass a huge number of users and become staples of everyday life, with the hopes that advertising or other revenue will follow.
Ride-sharing start-up Uber just received a huge injection of $1.2 billion last month, at a valuation of $18 billion, and its rival Lyft just received $250 million in the spring.
After enduring months of ridicule for rejecting $3 billion from Facebook to hold onto his disappearing-photo app, Snapchat's 24-year-old CEO Evan Spiegel suddenly looks like the smartest guy in the room.
Comments
comments