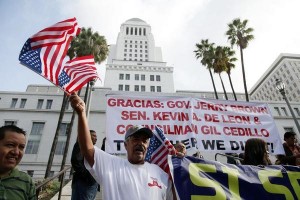 Several new laws will go into effect today that may have major implications on Californian businesses and major benefits for workers and those seeking work. The first of these laws increases the state's minimum wage, which has not been touched since back in 2008. President Barack Obama has pushed Congress to raise the federal minimum wage, but the proposal was never able to gain any traction. Instead, he has encouraged cities and states to raise wages on their own.
Here are the 11 most significant new laws to now take effect;
#1      The new minimum wage has officially increased to $9, and in 2016, it will be set to increase again to $10 an hour: http://www.dir.ca.gov/dlse/faq_minimumwage.htm
Although most are celebrating this increse, there will be a negative impact in that the minimum monthly salary to preserve exempt status under California Labor Code section 515, will rise to $3,120 per month, annualized to $37,440. In addition, the penalties available for minimum wage violations will now include "liquidated damages."
#2       California state and local city governments will no longer be able to ask job applicants about past criminal convictions
http://leginfo.legislature.ca.gov/faces/billNavClient.xhtml?bill_id=201320140AB218
#3       Battery-operated smoke alarms in rental units must contain a non-replaceable, non-removable 10-year battery:http://leginfo.legislature.ca.gov/faces/billNavClient.xhtml?bill_id=201320140SB745
#4      Property sellers must disclose lawsuits and claims on property:
http://leginfo.legislature.ca.gov/faces/billNavClient.xhtml?bill_id=201320140SB652
#5      Prime contractors required to disclose the CSLB license numbers of subcontractors on public works projects:http://www.leginfo.ca.gov/pub/13-14/bill/asm/ab_0001-0050/ab_44_bill_20130909_chaptered.htm
#6       Paid family leave expanded to include grandparents, grandchildren, siblings, and parents-in-law:http://www.edd.ca.gov/disability/paid_family_leave.htm
#7      Transgender Californians can now easily change their names and identity:
http://transgenderlawcenter.org/archives/9027
#8       New energy savings measures:
#9      Domestic Violence restraining orders can now prevent one party from changing insurance coverage.
#10   Domestic Violence victims will now have greater protection by allowing police to follow the toughest protective order when there are multiple or conflicting orders.
#11   There will now be a new 4.2% Sales and Use tax exemptions for manufacturers, researchers and developers.
What do you think about these do laws, do you agree with all of them?
Comments
comments