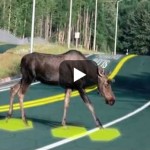 Believe it or not, the latest viral video, that was just posted 2 days ago, now has over 5 million views, and it's about roads and solar panels….seriously.
The two brilliant minds behind the latest technology called 'Solar Roadways' published a video in the beginning of this month that detailed their world-changing project – but the video was fairly boring.
That prompted viral video creator Scott Brusaw, to step in and help get the word out.
"Solar FREAKIN' Roadways!" is filled with passionate excitement and specifically targets young adult minds and cooler older adult minds while staying true to the facts and vision.
"All Brusaw's need is a little cash and we can kiss economic woes, pollution and a whole lot of car accidents goodbye forever."
Here's the Indiegogo account you might want to check out if you love the concept.
Comments
comments