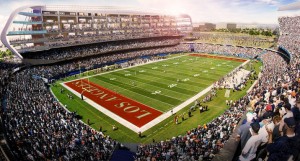 The Oakland Raiders and San Diego Chargers are now officially partners. Both teams just officially announced that they are jointly pursuing a shared, $1.7-billion NFL stadium in the LA area (specifically Carson).
Neither team has been able to find substantial financing for a new stadium in their own markets, so joining forces is now their only option (unless a last-minute financier comes through by the end of this year).
What's even more surprising is that the St. Louis Rams also just announced their plan to build an 80,000-seat stadium in the LA market as well.
If the Raiders and Chargers decide move forward with the join stadium, the partnership might look something like NY Jets and the Giants, who currently share a stadium in East Rutherford, N.J. The two NY teams are currently the only NFL teams playing in the same stadium.
L.A., which has been without the NFL for two decades, now finds itself with three teams that could relocate here and four stadium proposals, including the Farmers Field concept downtown and developer Ed Roski's plan in the City of Industry.
What do you think about the Raiders moving to LA?
[facebook][tweet][digg][stumble][Google]
[one_third] [/one_third] [one_third] [/one_third] [one_third_last] [/one_third_last]
Comments
comments