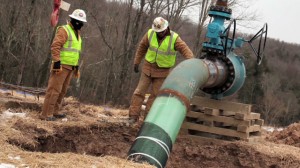 Many local Natural gas drilling proponents in the Binghamton region experienced an additional setback when the NY Supreme Court threw out a recent lawsuit – the second of its kind brought by the Joint Landowners Coalition of New York and Norse Energy. The lawsuit sought to stop the Department of Environmental Conservation's ongoing review of the environmental effects of hydrofracking.
NY Court Justice Roger McDonough killed their hopes when the lawsuit was abruptly dismissed.
"Landowners have been prevented from using an environmental resource. These are fundamental property rights that cannot be denied by a court," commented attorney Scott Kurkoski.
JLCNY is now struggling with the news, as it will severely cut into their bottom line, while anti-fracking activists were ecstatic.
Those against drilling stood by the decision and praised the court for pushing the public health analysis forward, saying that health of residents is more important than profits.
"Over the last four months we've seen more science showing fracking's negative effect on health than they've seen in all of 2011 through 2013 combined, so there's a growing body of science saying fracking can't be done safely," remarked local representative Isaac Silberman-Gorn, from the group 'Citizen Action of New York and New Yorkers Against Fracking'.
Comments
comments