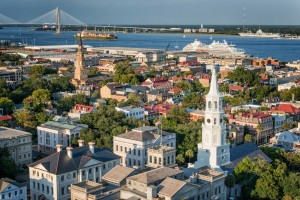 Charleston, SC has just been ranked the No. 2 travel destination in the world by the readers of Travel and Leasure magazine – second only to San Miguel de Allende, Mexico
Not only is it now officially the #2 destination in the world, the South Carolina destination was also ranked the #1 U.S. destination in the magazine's Readers' Choice Awards survey. The survey was taken by a record 46,476 people.
The ranking criteria used by the magazine included atmosphere, friendliness, lodging, restaurants, culture, attractions and shopping.
"Charleston — our top city in the U.S. for the fifth year running — was the sole American city among the top 10 overall; Florence, another World's Best veteran, was joined by European hubs like Rome and Barcelona; while Oaxaca, another Mexican city with a thriving culinary scene and cultural depth, came into the mix again for the first time since 2010."
Do you think Charleston deserves the #2 spot in the world? 
Comments
comments