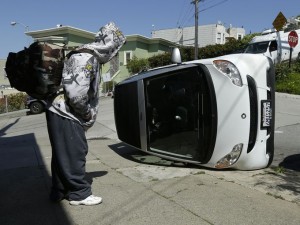 Now that most of us live in the concrete jungle, how are we supposed to fill our time on the weekends? Back in the day we could stroll down to the neighbor's farm and have a night of laughs at their cow's expense, but those days are sadly over. Thankfully some brilliant vandals have come up with the solution….smart car tipping
This past Monday, four different Smart cars were found overturned in two neighborhoods.
The tiny cars were found balanced on their headlights, rear bumpers or on their sides, with shattered windows and body damage. All four were found between 1 a.m. and 9 a.m. in the neighborhoods of Bernal Heights and Portola.
"It's hard to determine a motive without any suspects identified or in custody," police spokesman Gordon Shyy told the Associated Press.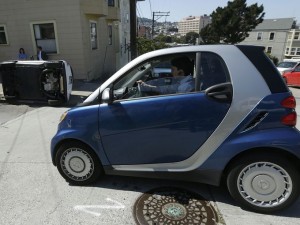 Shyy says the bizarre acts are being taken seriously and the culprits could face felony vandalism charges.The police have an eyewitness and are looking for multiple people wearing black hooded sweatshirts who were around the area during the time of the incidents.
The modern practice of 'tipping' Smart cars gained notoriety in 2011 with the Facebook parody page Smart Car Tipping, where vandals and witnesses all over the US and some in Canada documented the offbeat but destructive act.
You gotta feel for the owners – how would feel if you found your car shoved on its windows? – but I'll admit there have been times when I've wished my car was so light that I could pick it up and place it in tight parking spots by hand.
Comments
comments