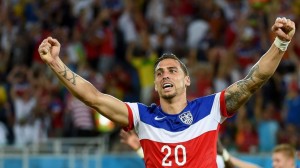 The USA has just beat Ghana in an impressive 2-1 victory that included the sixth fastest goal ever to be scored in a World Cup Game.
US forward Clint Dempsey gave the U.S. World Cup efforts  the best possible start, scoring an opening goal against Ghana in less than 35 seconds. The Seattle Sounders player sliced his way through the impressive Ghanaian defense before landing the opening goal with his left foot. It was the sixth-fastest goal in the history of the World Cup, behind Bernard Lacombe's 31-second goal for France in 1978 and ahead of Emile Veinante's 35-second score in the 1938 World Cup for France and Arne Nyberg's 35-second score for Sweden also in 1938.* The fastest goal of all-time was Turkey's Hakan Sukur, who scored in the first 11 seconds in 2002 against hosts South Korea. Dempsey's goal was the fastest goal in U.S. history at the World Cup.
The USA came into the 2014 World Cup with greater confidence having reached number 13 in the FIFA rankings and topped CONCACAF's qualifying sector with ease.
The teams have been paired in the last three tournaments, with the Black Stars winning 2-1 in Germany and South Africa.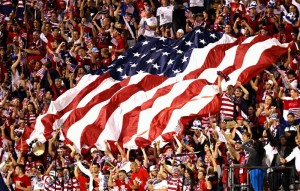 This first American victory against Ghana has now erased some of that past pain but also provide a solid base for Jurgen Klinsmann's side as they attempt to pip group favorites Germany and Portugal to a place in the last 16.
Ghana's John Mensa, who played in the 2010 win over Monday's opponents as a late call-up, acknowledges the previous games between the two sides will add an extra edge to their meeting in Natal.
Now with the Ghana grudge match behind them, the U.S. has the two giants of Germany and Portugal to look forward to – ranked by FIFA as the second- and fourth-best teams in the world.
Comments
comments