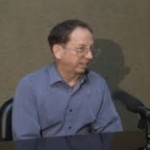 Jeffrey Fowle was arrested back in May by North Korean officials for leaving a bible in his hotel room.
He was initially detained at the airport earlier this year just before he was about to fly out of North Korea.
There are now reports circulating the internet claiming that North Korea has officially released him, however it appears there may be some foul play at work. Washington initially stated that;
[sociallocker]
"We are overwhelmed with excitement but still want complete confirmation,"
The Defense Department was planning on making arrangements for his transportation out of the country at the North Korean government's request.
State Department deputy spokeswoman Marie Harf said Fowle was on his way home to his family. "We welcome the DPRK's decision to release him," she said in a statement, using the abbreviation for the Democratic People's Republic of Korea.
Yet at this time, specific details are still sketchy about his whereabouts in transit.
We should know today whether or not North Korea was honest in their claims of release.
[/sociallocker]
Comments
comments