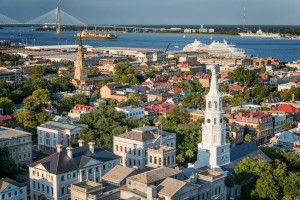 Charleston, SC has just been ranked the No. 2 travel destination in the world by the readers of Conde Nast Traveler magazine – second only to Florence, Italy.
Not only is it now officially the #2 destination in the world, the South Carolina destination was also ranked the #1 U.S. destination in the magazine's Readers' Choice Awards survey for the fourth year it a row. The survey was taken by a record 46,476 people.

The ranking criteria used by the magazine included atmosphere, friendliness, lodging, restaurants, culture, attractions and shopping.
Charleston's "food, history, architecture and people are wonderful," one survey respondent commented, "A bucket list city!" The other top five U.S. cities on the list included: San Francisco, Chicago, Santa Fe, and New York.
Conde Nast Traveler magazine's senior editor, Lindsay Talbot, remarked that visitors to Charleston need to first walk along the waterfront, then wander the side streets to take in the city's pastel-colored homes. She also noted that Charleston is known for its world-class restaurants and shops.
Mayor Joseph P. Riley released a statement saying the honors are a testament to the city's culture, hospitality and wonderful people.
Do you think Charleston deserves the #2 spot in the world? 
[facebook][tweet][digg][stumble][Google]
[one_third] [/one_third] [one_third] [/one_third] [one_third_last] [/one_third_last]
Comments
comments