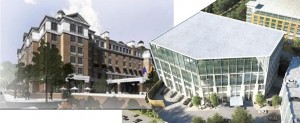 Charlotte continues it's rapid growth rate with the addition of two new major mid-rise developments. This news is coming on the heals of a new $10.3 million, 27 story and a new 25-story office tower to be built in Uptown Charlotte.
The first of these new mid-rise developments is proposed to be located in the Midtown area next to the widely popular Metropolitan development (the one with Trader Joes in it). The $60 million project would include office, retail, hotel rooms and residential units, built on 1.7 acres bounded by South Kings Drive, Luther Street, Cherry Street and Baxter Street. The major tower would be 8 stories tall, built along side a complimentary parking complex. They are currently asking for a zoning change to all the building to be 140 feet tall, which would be 40 feet above the site's current height restrictions.
The second development is in South Park, and it is also fighting current height restrictions. Crosland and Allen Tate have partnered to construct a seven-story building that will house two hotels on Sharon Road. Charlotte City staff has stated that the rezoning is inconsistent with the SouthPark area plan and that the 70-foot tower would be too high, however, after some deliberation and no resident petitions, the project was finally approved by the city.
[facebook][tweet][digg][stumble][Google]
[one_third] [/one_third] [one_third] [/one_third] [one_third_last] [/one_third_last]
Comments
comments