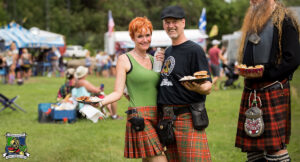 Ever wondered about the melodies of bagpipes by the Cooper River or the thrill of a sheaf toss?
Dive into the rich Scottish culture at the 52nd Annual Charleston Scottish Games and Highland Gathering this coming Saturday, Nov. 4 at Riverfront Park.
Gates will be opening at 8 a.m., offering a day packed with kilted excitement including:
Strong man events like the hammer throw and caber toss throughout the day.
Highland dancer competition.
Opening ceremonies with a parade of tartans at 11:30 a.m. in the North Field.
Border collies and their handlers showcasing their herding expertise in the South Field.
Dive into heritage exploration tents, savor Scotch tastings, indulge in kids' activities, enjoy fiddling jam sessions, and immerse yourself in live music.
Join us and celebrate the vibrant tapestry of Scottish traditions.
Comments
comments