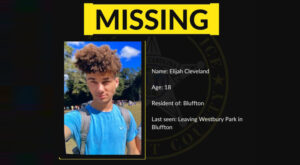 The Beaufort County Sheriff's Office initiated an investigation on Wednesday evening following the report of a missing teenager.
Elijah Cleveland, 18, was last observed departing from Westbury Park in Bluffton just before 8 p.m., according to official statements.
Cleveland is characterized as a 6-foot-2 male with curly hair and hazel eyes. At the time of his last sighting, he was wearing a dark green hooded shirt, black jeans, and black shoes.
Deputies seek public's assistance locating 18-year-old Elijah Cleveland of Bluffton https://t.co/7VhIWhFUVD

— Beaufort County Sheriff's Office, SC (@bcsopio) November 2, 2023
Officials have expressed concern for his well-being, citing unspecified medical conditions.
Comments
comments