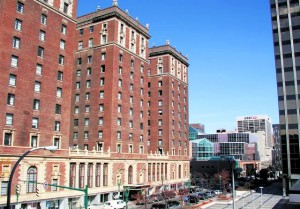 One of Syracuses largest renovation projects in recent years is now underway. The world famous Hotel Syracuse is about to receive a complete make-over, both inside, and out. It's currently estimated to cost upwards of $57 million. The hotel will be reopening in early 2016 under new management.
Ed Riley (a former hotel executive) initially secured ownership of the building with the help of the Syracuse Industrial Development Agency in July, using his $57 million renovation plans to secure the deal. The county used $1.1 million in grants to assist Riley with the purchase of the hotel. He paid the Syracuse Industrial Development Agency $1.6 million for the building, putting up $500,000 of his own money, and using $1.1 million in state money for the balance of the purchase.
He has now just secured a deal with Crescent Hotels & Resorts to develop and manage the new hotel's operations and brand. The company currently operates hotels under many top brands, including Hilton, Hyatt, Marriott, Wyndham, Westin, Sheraton, Crowne Plaza and Holiday Inn. Riley and Crescent executives are hoping to finalize the new branding of Hotel Syracuse within the next couple weeks.
So far the building has been completely weather-proofed, but the next phase is much more substantial. Crews are about to completely demolish the hotel's 90-year-old rooms and replace them with larger, fully modern rooms. Riley said that work will take about a year. The hotel will reopen with 261 rooms sometime in the first three months of 2016.
[facebook][tweet][digg][stumble][Google]
Comments
comments