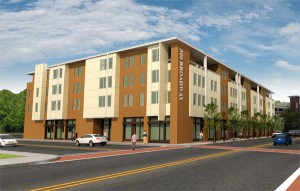 Developer John Luke Hodorowski is now planning a $7 million, four-story apartment and office building at 242 Broadway St., across from the brand new $3 million complex he just recently finished in 2013.
The new facility would have 39 toal apartments on the three upper floors. The existing building, currently only has 18 apartments, as well as some office and retail space on the first level.
The entire area has undergone redevelopment over the past few years with new restaurants, theaters and an expanded Proctors nearby.
The Planning and Zoning Commission is now scheduled to review the new project on Nov. 19th
John Hodorowski has an option to purchase the land, as well as a vacant lot next to Villa Italia. The sale won't be completed until he receives the necessary approvals for the project.
Together, John and his brother Paul own Hodorowski Homes and J. Luke Construction, which is currently headquartered in Rotterdam.
Some of their projects include Traver's Meadows in Malta, Rolling Hills in Halfmoon, Vly Pointe in Niskayuna, Summit Hill Apartments in Troy and Admiral's Walk in Cohoes. They've also completed construction of Newburgh Toyota and Saratoga County Animal Hospital.
Comments
comments