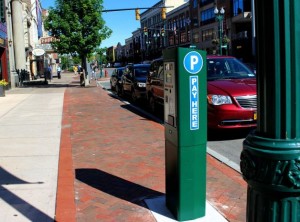 The city of Albany is moving to help drivers and hurt themselves. They are now installing new high-tech parking meters that allow people to pay by credit card, making it more convenient for people – meaning less tickets and less ticket revenue for the city.
They started to install the new advanced meters in 2011 and are continuing to add more meters each year. Instead of having a meter for each parking space, the new models are placed in the middle of multiple blocks. They enable people to pay for longer stretches and to use both credit cards and coins.
The city currently has 137 of the meters installed, covering over 1,170 spaces on State Street and through the central business district.
"The parking meters had a 5.97 percent increase in revenue between 2012 and 2013," remarked Michael Klein, the executive director of the Albany Parking Authority. In cash, that means a bump up from $186,788 to $197,948.
But in 2010, the city wrote 40,477 tickets for people at parking meters, netting almost $1.6 million in revenue, said City Treasurer Darius Shahinfar. Last year, the number of tickets written dropped to 25,212 and the city got paid $858,629.
"One of the things we're starting to see now is people are just obeying the rules more regularly," Shahinfar commented.
Do you think this is a good thing for the city of Albany? 
Comments
comments